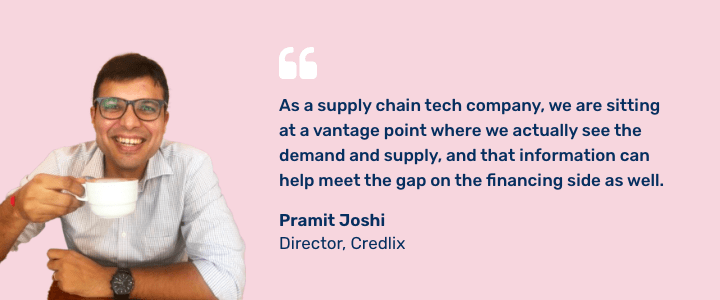 The COVID-19 pandemic had a devastating effect on the supply chain ecosystem, hitting micro, small and medium enterprises (MSMEs) heavily, and leaving them struggling to survive and build capital. Moglix launched Credlix, a digital supply chain financing platform in February 2021. It is a separate vertical of the company and provides quick collateral-free working capital solutions for enterprises and exporters.
"Unless MSMEs got paid, how would they produce goods to supply? Dwelling on this, we reached the point of realisation that working capital is something which can only accelerate our journey to become the B2B operating system," says Pramit Joshi, Director, Credlix.
Unlike listed companies, MSMEs don't share quarterly financial updates; they share these details either semi-annually or annually, which does not help them much with creditworthiness.
But, that is not a hinder for Moglix, as it already has an end-to-end supply chain platform, which brings together 700 enterprises and 16,000 small and medium enterprises who mainly make it in India and South-East Asia.
"As a supply chain tech company, we are sitting at a vantage point where we actually see the demand and supply, and that information can help meet the gap on the financing side as well," remarks Pramit.
Credlix, with this information, reaches out to MSMEs to bridge the financing gap. Suppliers can request early payments from enterprise buyers at affordable discount rates to keep their supply chain up and running, staying in control of their cash conversion cycle. Vendors and suppliers can do everything from credit application and credit risk assessment to payment approval and final disbursement, on a single platform.