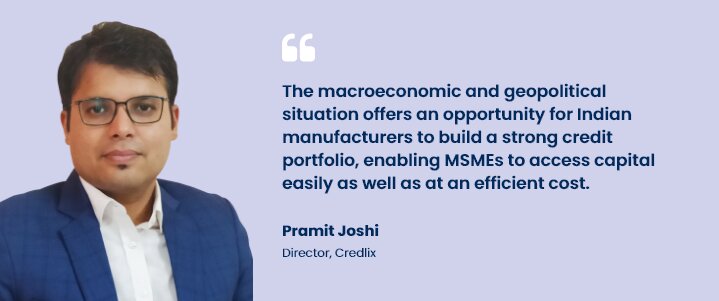 Digital solutions were a safer and surer way to ensure world trade kept moving during Covid lockdowns. It also seemed the right time to provide financing services to MSMEs After all, the pandemic had hit them the most. This realization made Moglix, a B2B ecommerce platform for industrial tools, launch Credlix in February 2021. 
"MSMEs are a crucial factor in India's manufacturing sector, but lack of financing was preventing 1/6 of them from responding to the crisis. It reduced their risk preparedness and speed of recovery and created stress in the supply chain. There were reports of almost 30% of MSMEs facing severe credit crises. We realized that we have to prevent the supply chain from being disrupted. It was at this time that Moglix felt the need for a financing platform for this underserved segment," said Pramit Joshi, Director, Credlix. 
Services on a platform 
Credlix provides quick collateral-free solutions for enterprises, suppliers and exporters. For exporters, it helps in purchase order finance and invoice discounting. It works with enterprises to ensure that early payment is available to their suppliers in a cost-effective and digital way. 
Reach and claims 
Talking about its journey so far, Rahul Garg, founder of Moglix, says, "The journey has been better than our initial forecasts. We are already serving 3,000 MSMEs and disbursed more than $150 million in a little over 12 months now. We aim to reach over 1 million SMEs in 3-5 years." 
Streamlined operations 
A spokesperson for a manufacturer and exporter of glass wool, says, "It is important for us to keep track of payment transactions, just-in-time payments, and a sound relationship with our suppliers. Credlix's customized digital supply chain platform5/6 has reduced our worries by providing a 360-degree solution for us and our customers." 
Credlix wants to play a larger role in the global manufacturing supply chain to meet the government's 10-year $1-trillion export vision. It wants to simplify and derisk credit disbursal and underwriting processes for enterprises, lenders, and suppliers with  technology. The vision is to make Credlix more efficient and have a disbursal guidance of $2 billion by December 2023.