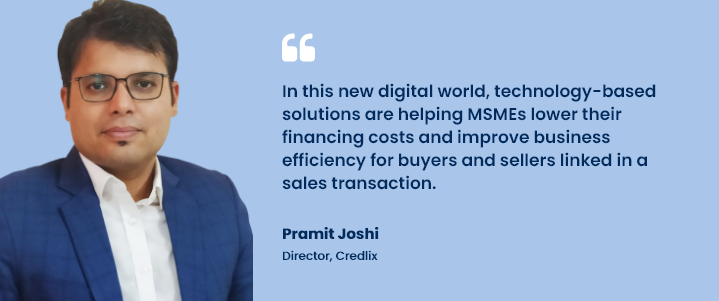 The global pandemic has forced MSMEs to reassess their supply chains. The COVID-19 lockdowns and subsequent economic breakdowns have immensely contributed to the changing behavior across supply chains. India, which comprises the second-largest base of MSMEs, contributes around 31 percent to India's GDP, employs about 11 crore people, and constitutes 45 percent of total exports.
The digitization of supply chain financing: In this new digital world, technology-based solutions are helping MSMEs lower their financing costs and improve business efficiency for buyers and sellers linked in a sales transaction.
Building a large financing pool: With expanded reach and multiple players providing higher values, improved financing, and better working capital, suppliers can have access to more financing options.
Business Risk-proofing and driving efficiency: The world is witnessing a transformation in business strategy where organizations are creating a holistic ecosystem with better risk management and risk mitigation solutions.
Emerging stronger from the supply chain crisis: Digital financing solutions have a long-term potential of enabling lightning-fast payment systems greater automation, better decision-making, 100% digital documentation, and onboarding for businesses to navigate troubled waters and ride the digital waves and swim ashore. 
Government's boost for the MSME sector: 
There is a need for greater digitalization and standardization of KYC across lenders and MSMEs, including enabling non-collateral-based lending for MSMEs meeting specifically defined parameters. 
Make in India to reduce the supply chain gaps and get global market access:. Supply chain financing will overcome gaps with the help of digitalization, enabling ease of access to working capital for MSMEs to replace stocks, buy raw materials and fulfill customer orders. 
Export-led growth and outlook: Global macroeconomic factors and ample liquidity will continue to revive the manufacturing-led exports from India. India's vision for a brighter future for MSMEs and exporters will require us to set a mandate for India to play a larger role in the global manufacturing supply chain and meet the Government of India's 10-year $1 trillion exports vision.